Lexical consistency in the Holy Quran for economic verses: A textual study
Keywords:
Holy Quran, Lexical Coherence, Text Linguistics, De Bo Grand, Economy
Abstract
      This research deals with a linguistic study represented by the lexical coherence of the selected economic verses. Linguistics of the text is one of the most prominent linguistic sciences that has taken upon itself the task of studying the text, and has dealt with the text as a whole structure and not an arbitrary pavement of words and sentences. The task assigned to text linguistics is to link the text and its components to external elements through a set of textual criteria proposed by de Bo Grand. These criteria came to encompass all definitions that dealt with the text in its diversity, and represent the actual basis for finding texts and using them, namely: coherence, cohesion, acceptability, informativeness, intentionality, situationality, and intertextuality. De Bo Grand's theory appeared in 1981 AD; as linguistic studies carried out by American and European schools interacted with various sciences, including linguistic and non-linguistic. Coherence is considered the main factor among the factors that achieve textuality for the text, as it is a tightening of verbal or formal relationships distributed between parts of the text through weaving a network of relationships that link the surface structure of the text in a way that makes it an integrated and consistent linguistic unit, and it is based on two aspects: lexical coherence and syntactic coherence. Each contributes to linking parts of the surface text. This research will focus on lexical coherence, which is a formal means that works on referential linking at the level of the lexicon, giving meaning its continuity by relying on the lexicon and its vocabulary that are related to something mentioned, and then employing it on economic texts of the Holy Quran; which would reveal the overall unity of economic texts and their cohesion. The research indicated that lexical coherence has a great role in linking economic texts to the linguistic system, its originator, and its recipient in order to achieve a comprehensive vision for these texts. Since the Qur'anic text is the clearest text in Arabic language where features of textual cohesion appear; because it is God's miraculous speech, economic texts were distinguished by their strong grammatical cohesion between their parts, which made them a wide area for study.
Downloads
Download data is not yet available.
References
First: The Holy Quran
Second: Books
Linguistic Efforts: Tamam Hassan, World of Books, Cairo, 1st edition, 2007 AD.
The Oceanic Sea in Interpretation: Abu Hayyan Muhammad bin Yusuf bin Hayyan Athir al-Din al-Andalusi (d. 745 AH), edited by: Sidqi Muhammad Jamil, Dar al-Fikr - Beirut, 1420 AH, (d.t).
The Beautiful Between Arabic Rhetoric and Textual Linguistics: Jamil Abdul Majid, The Egyptian General Book Authority, 1998. (D.t).
The Beautiful and the Parallel: Hassan Al-Sheikh Abdul Wahid, Darar Al-Ishaa, Egypt, 1st edition, 1999 AD.
Al-Burhan in the Sciences of the Quran: Badr al-Din al-Zarkashi (d. 794 AH), edited by: Muhammad Abu al-Fadl Ibrahim, Dar Ihya al-Kutub al-Arabiya, Lebanon, 1st edition, 1957 AD.
Arabic Rhetoric Its Foundations and Arts: Abdul Rahman Al-Maidani (1425 AH), Dar Al-Qalam, Damascus, 1st edition, 1996 AD.
Building Style in Modern Poetry The Creative Beautiful Formation: Muhammad Abdel Muttalib, Dar Al-Maaref, 2nd edition, 1995 AD.
The Statement in the Wonders of the Quran A Linguistic and Stylistic Study of the Quranic Text: Tamam Hassan 1993 AD. First edition, Cairo, World of Books.
Al-Tahrir and Al-Tanwir (Editing the Right Meaning and Enlightening the New Mind from the Interpretation of the Glorious Book): Muhammad Al-Tahir bin Muhammad bin Muhammad Al-Tahir bin Ashour Al-Tunisi (d. 1393 AH), The Tunisian House for Publishing - Tunisia , 1984 AD, (d.t).
Textual Coherence Between Poetry and Prose: Zahir bin Marhoun Al-Dawi, Dar Jarir for Publishing and Distribution. Amman, Jordan, first edition, 2010 AD.
Quranic Expression: Fadil Al-Samarrai, Dar Ammar, Amman, 4th edition, 2006 AD.
Al-Basit Interpretation: Abu Al-Hasan Ali bin Ahmad Al-Wahidi (died 468 AH), Deanship of Scientific Research - Imam Muhammad bin Saud Islamic University, 1st edition, 1430 AH.
Interpretation of Al-Maraghi: Ahmad bin Mustafa Al-Maraghi (died 1371 AH), Mustafa Al-Babi Al-Halabi and Sons Company, Egypt, 1st edition, 1365 AH - 1946 AD.
Enlightened Interpretation in Creed, Sharia and Methodology: Wahba Al-Zuhaili , Dar al-Fikr , Beirut - Lebanon , first edition , 1411 AH - 1991 AD .
Interpretation of Gardens of the Soul and Reehan in the Meadows of the Sciences of the Quran: Sheikh Al-Allama Muhammad Al-Amin bin Abdullah bin Ali Al-Husseini Al-Harari Al-Shafi'i , supervision and review : Dr . Hashem Mohamed Ali bin Hussein Mahdi , Dar Touq al-Najat , Beirut - Lebanon , first edition , 1421 AH - 2001 AD .
Semiotics: Ahmed Mukhtar Omar , World of Books , Cairo , fifth edition , 1998 AD .
Textual Linguistics Between Theory and Application (An Applied Study on Meccan Surahs): Subhi Ibrahim Al-Faqi , Dar Quba for Printing and Publishing , Cairo , first edition , 1142 AH - 2000 AD .
Textual Linguistics Theory and Application : Azza Shabl , Library of Literature , Cairo , second edition , 1430 AH - 2009 AD .
Burhan's Influence on Textual Coherence A Lexical Approach Applied in Light of Dr . Khalid Al-Manaif's Articles : Nawal Bint Ibrahim , Umm Al-Qura University Journal for Languages and Literature , Issue Eight ,2012 AD .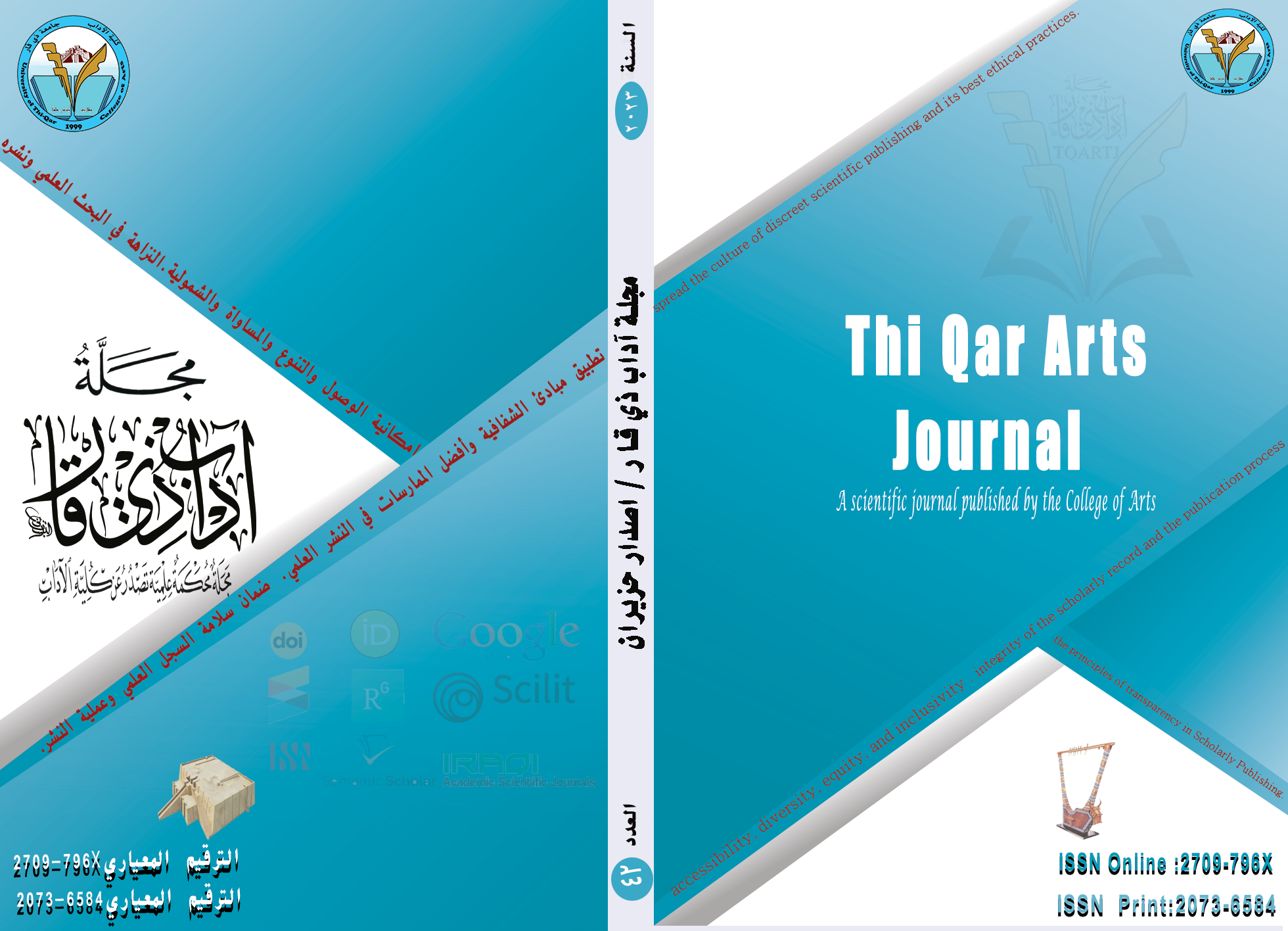 How to Cite
Awaid, Mustafa Khalaf, Dr. Rohollah Nasiri, and Prof Dr. Muayad Mahdi Al-Nashi. 2023. "Lexical Consistency in the Holy Quran for Economic Verses: A Textual Study". Thi Qar Arts Journal 2 (42). Huminites:159-86. https://jart.utq.edu.iq/index.php/main/article/view/434.
Section
Literature and language
License
Copyright (c) 2023 Mustafa Khalaf Awaid, Dr. Ruhollah Nasiri, Prof Dr. Muayad Mahdi Al-Nashi
This work is licensed under a Creative Commons Attribution 4.0 International License.
Permit others to distribute and copy the manuscript, to create extracts, abstracts, and other revised versions, adaptations or derivative works of or from the manuscript (such as a translation), to include in a collective work, to text or data mine the article, even for commercial purposes, as long as they credit the author(s), do not represent the author as endorsing their adaptation of the article, and do not modify the article in such a way as to damage the author's honor or reputation.  Further details found at Creative Commons Attribution 4.0 International (CC BY 4.0)